Stand out in a crowd of plastic pill bottles
with LocTin CR marijuana packaging tins.
LocTin™ delivers your top-shelf product with sophistication and style. Our sleek, streamlined design is carefully engineered to provide optimal conditions for your product while providing an amazing platform for your brand to thrive.
Order Now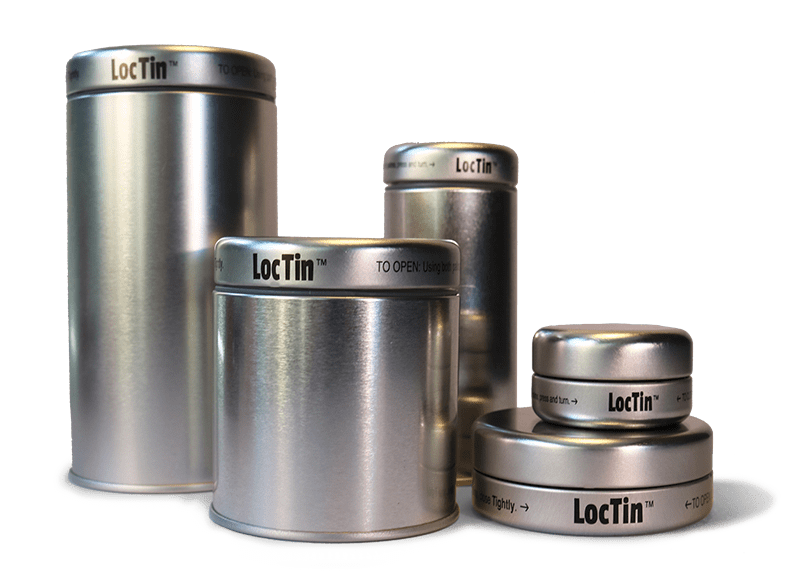 Elevate your brand with the sophisticated, high-end platform it deserves.
Radiate quality with a container as dank as your buds, oils and waxes.
Preserve all your fresh products with thoughtful, CR-compliant design.
It's got your name
and brand all over it
finally, a custom, full-color CR cannabis tin.
No matter where your product goes, it will arrive with your unique style blazing. LocTin offers full tin, 4-color wraps with optional embossing and debossing and custom foam inserts. Our in-house designers will work one-on-one with you to create the perfect design, or you can submit your own design. Either way, our team is ready, willing, and able to help you take your artistic vision to the next level.
Free Estimate
Just push and twist, our patent-pending LocTin design is intuitive and effective. Every LocTin design is put through a rigorous testing process to ensure full CR compliance. LocTin is unmatched in its ability to keep young hands out while still allowing for quick, easy access for adults, even those suffering from arthritis or any other debilitating disease.
Order Now
Marijuana packaging
tailor-made just for you
Our round child resistant tins come in a full range of sizes suitable for flower, edibles and more. Add a custom foam insert to create the perfect fit for loaded cartridges or glass vials and jars. The LocTin lineup is carefully designed to support all your packaging needs.
Quality tin construction
No other CR packaging matches LocTin's sophisticated look, feel and performance.
Patented Child Resistant design
16 CFR 1700, ASTM and FDA certifications ensure stress-free, all-state CR compliance.

Custom 4-color printing

Personalize your entire tin with company logo and uniquely branded design.
Don't just take our word for it listen to the industry experts we work with every day.
"Compliant Packaging delivers the right product, at the right price, in an extremely timely fashion. We have grown our business with the help of the entire Compliant Packaging team and have found a true partner & relationship that helps our customers and our business thrive."

Devin Beck

General Manager of Operations, Lightshade
"Without the help of the Compliant team navigating the various regulatory hurdles with our labeling would have been a huge headache. They were able to give us multiple options for our packaging all while helping us stay price competitive and cutting edge."

Sean Scranton

Compliance Manager, Pig-n-Whistle
"Compliant's dedication to professionalism, its understanding of Child Resistant packaging and continued commitment to integrating safe and responsible packaging to the cannabis industry is unparalleled and uncompromised."

Brian Vicente

Vicente Sederberg, LLC
"Compliant Packaging goes over the top to provide excellent service. Ever since we have worked with them, we have never had to worry about shopping around for prices. If there is something we want and they don't have, they will develop a better product at a lower cost. They are determined to make their industry better and it shows through their passion for what they do."

Kevin H.

Cannabis 4 Health
"In our time doing business with Compliant Packaging, they have always been incredibly attentive and have routinely gone above and beyond expectation in fulfilling our needs. Furthermore, their commitment to quality products made in the USA echo our very same philosophies and compel us to use them as our exclusive packaging supplier."

Matt L.

GM Kind Love